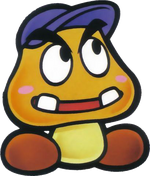 Goombario
is a
Goomba
featured in 
Paper Mario
.  He is an intelligent young Goomba with lots of knowledge about the environment and enemies of the game.  His skills include Headbonk, Tattle, Charge (1 FP), and Multi-Bonk (3 FP).  It is shown that he has a family (Goombaria, Goompa, Gooma, Goomama, and Goompapa) at the beginning of the game.  His name is a mash up of Mario and Goomba, and was named by his father.
Ad blocker interference detected!
Wikia is a free-to-use site that makes money from advertising. We have a modified experience for viewers using ad blockers

Wikia is not accessible if you've made further modifications. Remove the custom ad blocker rule(s) and the page will load as expected.